From Biobank to CDx: Smoothing the Path to Validation – Tri-Con 2022
In the course of advising multiple biopharma clients on their companion diagnostic (CDx) development programs, Precision for Medicine has identified bridging from local tests to the clinical trial assay and future CDx as a critical bottleneck. Often, assay validation requires additional mutated or wild type samples to supplement reserved tissue from trial subjects. In response, Precision has embarked on a large-scale initiative to sequence curated samples from our massive tissue archive, Project P.O.S.I.—the Precision Oncology Sequencing Initiative.
On February 22, 2022, David Parker, PhD, Senior Vice President for Diagnostics Solutions at Precision for Medicine, delivered a presentation entitled, From Biobank to CDx: Smoothing the Path to Validation at the 29th International Molecular Med Tri-Con Virtual Conference & Expo, a leading international forum for the precision medicine community. In his talk, Dr. Parker discussed how CDx development programs can be accelerated by overcoming the barriers of exhausted or insufficient clinical trial material by using pre-characterized, disease-specific specimens.
Precision for Medicine, a global leader in supplying biospecimens, lab services, and CRO services to the life sciences industries, was pleased to have Dr. Parker share his strategic insights with the TriCon audience.
Ideal Parallel Development Pathway for Targeted Drugs and CDx
Ideally, drug development should occur in parallel with development and validation of the CDx. As shown in the figure below, such a parallel development pathway can minimize overall development time, while maximizing the likelihood that the CDx will be approved and available for clinical testing on Day 1 of drug availability.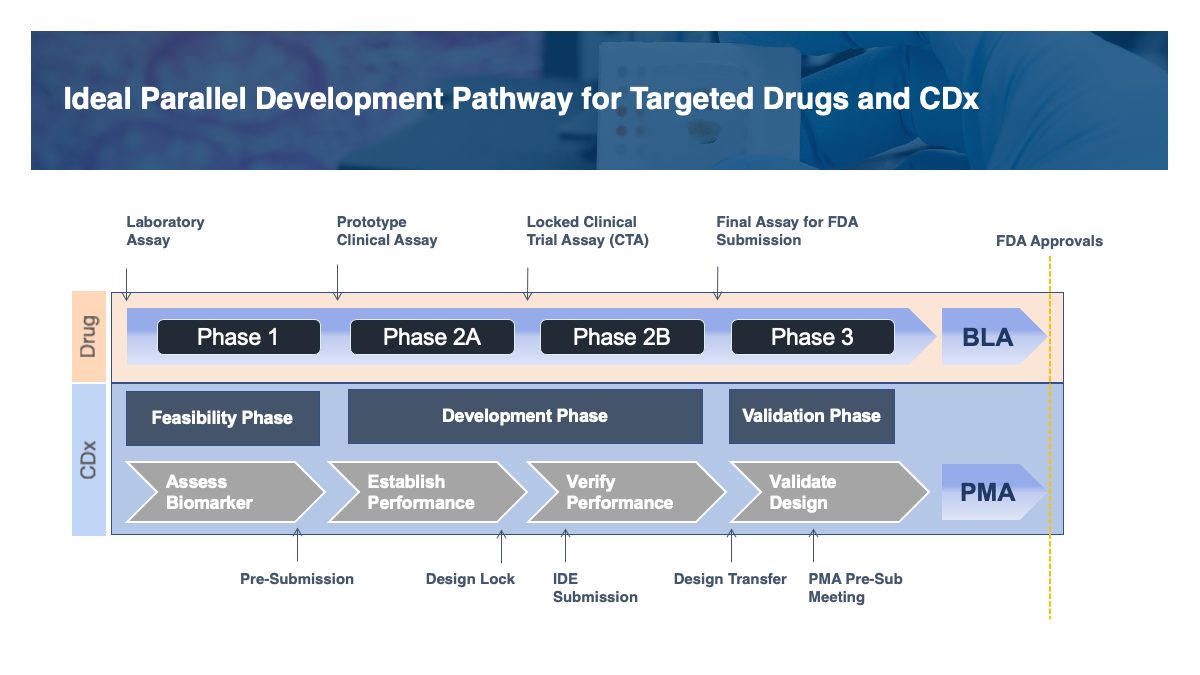 In this ideal paradigm, clinical samples from Phase 1 studies and sometimes Phase 2A studies are tested retrospectively as the CDx is refined, the assay performance and cutoff are established, and the assay is validated. The validated assay is then used for subject enrollment in Phase 2B and Phase 3.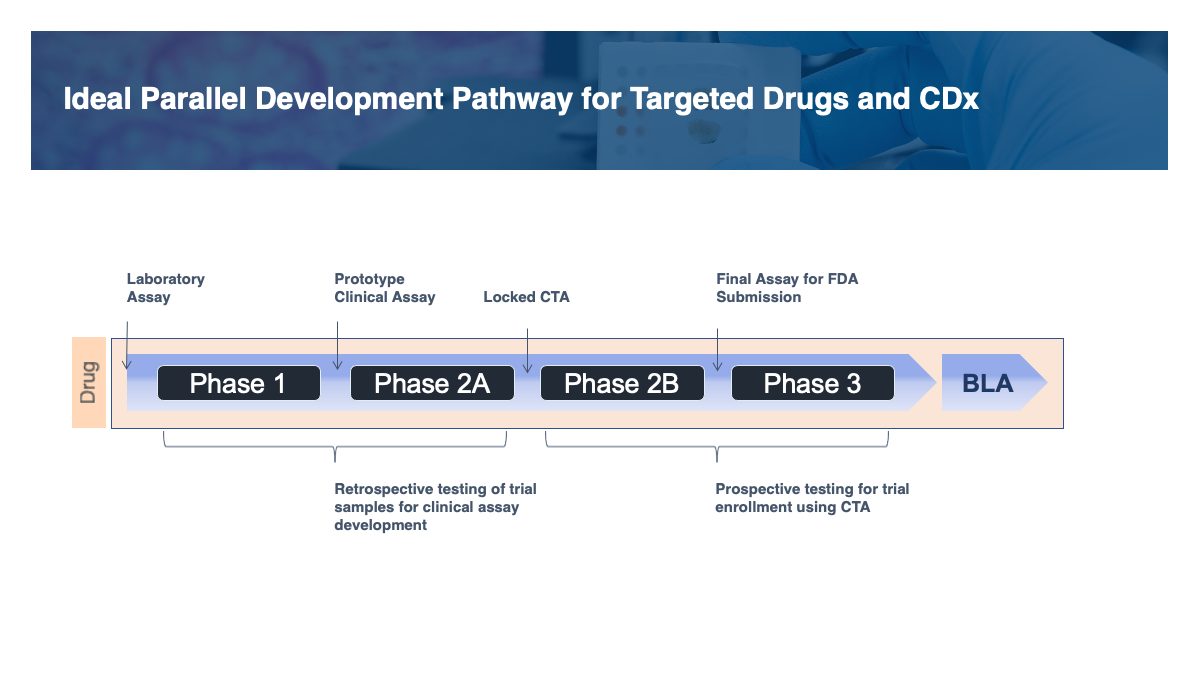 Asynchronous Development Pathways
However, the ideal paradigm can be elusive, as our Diagnostic Solutions regulatory and commercialization consultants have witnessed while advising numerous biopharma clients on their CDx programs. All too frequently, the CDx program has started too late, or otherwise lags behind the drug development program, and a validated clinical trial application (CTA) is not available for prospective enrollment into the pivotal study. This problem is particularly acute when the biopharma company intends to use the Phase 2B results for registration. Oftentimes, the workaround is to enroll patients based on local testing, such as next-generation sequencing (NGS), polymerase chain reaction (PCR), or fluorescent in situ hybridization (FISH), though performance characteristics may vary from platform to platform and lab to lab.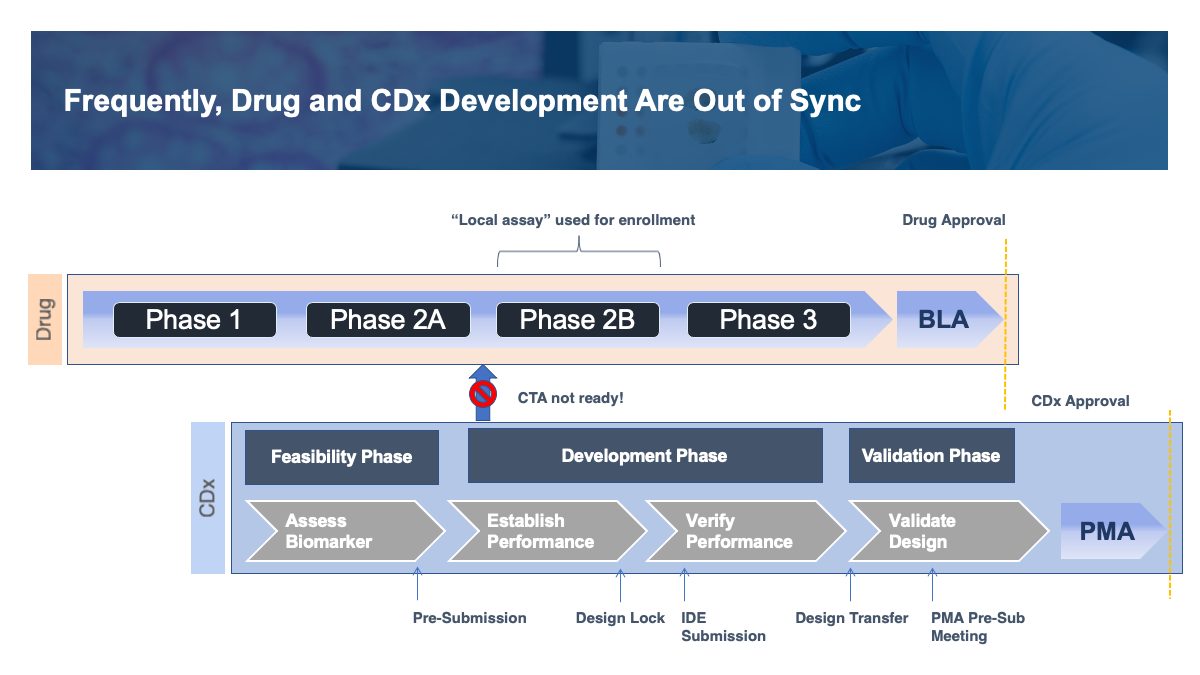 Getting From Local Testing to the CDx Requires a Bridging Study
When a registrational Phase 2B trial incorporates local assays, for example, a bridging study can be essential to advancing to a CDx. A successful bridging study requires retention of the right types of clinical samples from the trial and enough sample material for the requisite testing. These samples must then be tested to validate the CTA.
Although a bridging study can be a critical component of the CDx development pathway, biopharma sponsors are often surprised to find that it can introduce significant delays into the CDx and drug approval timelines. A lack of positive and/or negative samples—those that are specific to the disease and the biomarker of interest—can bring CDx development to a halt while additional samples are found and obtained to enable validation of the CDx. The problem is exacerbated when the cancer is a rare type and additional clinical samples are difficult to obtain, either prospectively or from archived tissue.

Precision's FFPE Tissue Biorepository
To address this need, Precision for Medicine has developed a unique solution that leverages our extensive specimen biorepository. Precision for Medicine has amassed a collection of more than 3 million pathologist-reviewed, formalin-fixed paraffin-embedded (FFPE) samples, along with several million additional histology slides covering a full spectrum of oncologic and medical diseases. These are housed in Precision for Medicine's integrated high-throughput histology laboratory.
The biorepository enables presentation of the entire pathology report with all subject information fully de-identified. Additional data elements may be introduced by our team of subspecialty pathologists. Samples and data are collected under full informed consent or institutional review board (IRB)-approved waiver of consent. Precision for Medicine performs manual quality control (QC) on every data field reported, and transfers files via the client's preferred method of delivery.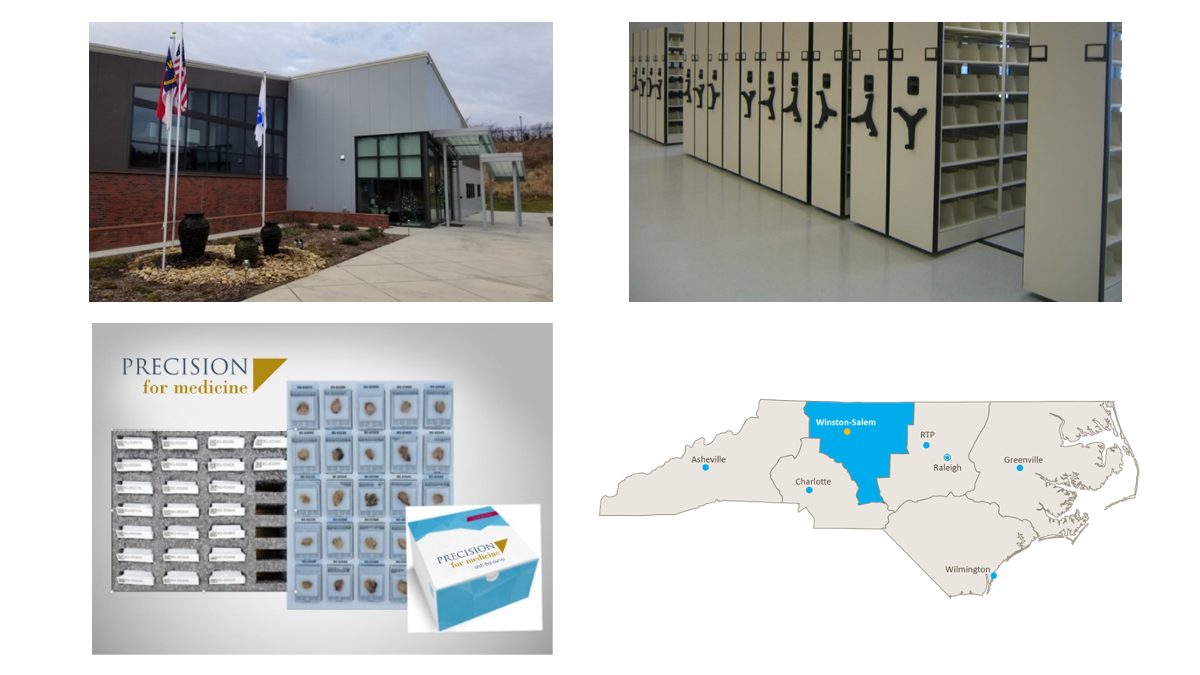 Project P.O.S.I.: A Novel NGS Sequencing Initiative
Project P.O.S.I. is an ambitious program designed to prospectively sequence many of our stored tissue blocks to identify those with mutations of particular interest in targeted drug development. The initiative is based on the principle that generating data from real clinical samples, rather than from contrived specimens, helps researchers and drug developers optimize biomarker and CDx development. To date, we have sequenced approximately 8,000 FFPE specimens across 11 cancer indications of high clinical interest, and approximately 350 donor samples for liquid biopsy.

In addition to identifying specimens with mutations of clinical interest for targeted drug development, Project P.O.S.I. also has turned up many samples from a variety of cancers that are wild type (i.e., non-mutated) for various cancer genes. Therefore, the Project P.O.S.I. resource can readily "bridge the gap" between available positive and negative trial samples and validation needs in bridging studies.
Watch the full presentation here.
To learn more about Precision for Medicine's services, contact us.
Accelerating the Pace of Scientific Discovery and Approval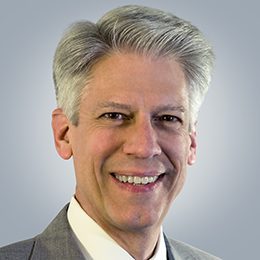 David Parker, PhD
Senior Vice President,
Diagnostics Solutions,
Precision for Medicine